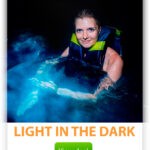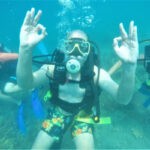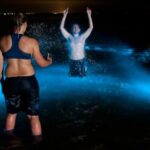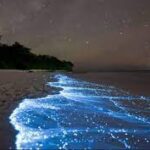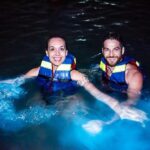 Light in the dark
From: $COP322,000
Salida desde el muelle de La Bodeguita para un viaje para nadar y ver el plancton. 
Description
¡Aventura única de buceo con plancton!
Cartagena Colombia es el hogar de algunas de las mayores maravillas de la naturaleza . En esta ocasión, nos sorprende con la mejor experiencia de buceo , ¡un viaje marino inolvidable! ¡Prueba una nueva aventura en la hermosa playa de Barú!
Este lugar cuenta con las mejores aguas cristalinas, arena blanca y un increíble servicio a sus visitantes. Además, verá el fenómeno del plancton luminoso del que solo algunas partes del mundo pueden presumir.
¿Suena bien para ti? Esto es lo que ofrecemos:
Este es un viaje nocturno , para ver el hermoso espectáculo de la luz de la luna en las aguas y un ambiente acogedor. Saldrás de Laguna encantada y disfrutarás de un paseo en bote, esperando que comience el espectáculo natural.
Parece que no va a pasar nada, hasta que comience el increíble y casi mágico evento marino. ¡Puedes darte un baño en las aguas más claras de Bakú mientras contemplas el hermoso plancton más allá de tus pies!
Sin duda, esta es una experiencia única que no debe perderse cuando venga a Bakú. Esto es lo que la gente llama el viaje de la luz en la oscuridad nocturna para ver el plancton luminoso. ¡No verás en ninguna otra parte de Latinoamérica!
Es increíblemente relajante y no te resistirás a volver pronto. Algunas de las satisfacciones que los clientes piensan es como si estuvieras a la deriva en el espacio . ¡El plancton luminoso proporciona un entorno increíble!
Recuerda que este fenómeno ocurre a una hora determinada , pero los guías sabrán exactamente cuándo ir. Además, puedes disfrutar de la belleza de la isla de Bakú mientras llega el momento.
¡Una playa paradisíaca en la que pasar un buen rato con un delicioso plato de pescado frito!
¿Qué incluye la luz en la oscuridad BRONCE?
Transporte en autobús con aire acondicionado.

Implementación de protocolo de bioseguridad (uso de mascarilla, antibacteriano, entre otros)

Mini charla sobre el fenómeno del plakton

Personal de acompañamiento de Caribbean Eco Tours

Viaje en barco

Un instructor / guía capacitado

1 hora de baño de mar
Nosotros recomendamos:
Siga las sugerencias dadas por el personal para evitar inconvenientes.
IMPORTANTE:
Se debe completar formulario de inmigración para salir de Colombia, también la prueba covid-19.
¿QUÉ NO INCLUYE LA LUZ EN LA OSCURIDAD? ❌
Transporte al punto de encuentro, (en caso de no hospedarse en la casa organizada por Caribbean Eco Tours). 

Cualquier gasto extra que no esté estipulado en el plan, (bebidas o comida extra o fuera del menú establecido, compra de souvenirs o cualquier otro producto que no se ofrezca en este plan, entre otros). 
Description Silver

What does light in the dark SILVER includes:
Boat trip
A trained instructor/guide
Implementation of biosafety protocol (use of mask, antibacterial, among others)
Mini talk about the phenomenon of plakton
1 hour sea bath

Accompaniment staff of Caribbean Eco Tours

Telephone attention for information
We Recommend:
Follow the suggestions given by the staff to avoid inconveniences
IMPORTANT:
Immigration form must be filled out to leave Colombia, also the covid-19 test.
WHAT DOES LIGHT IN THE DARK NOT INCLUDE? ❌
Transportation to the meeting point, (in case you are not staying at the house organized by Caribbean Eco Tours). 

Any extra expense that is not stipulated in the plan, (drinks or extra food or outside the established menu, purchase of souvenirs or any other product that is not offered in this plan, among others).