NETWORK DE REACTIVACION ECONOMICA Y TURISMO POST COVID-19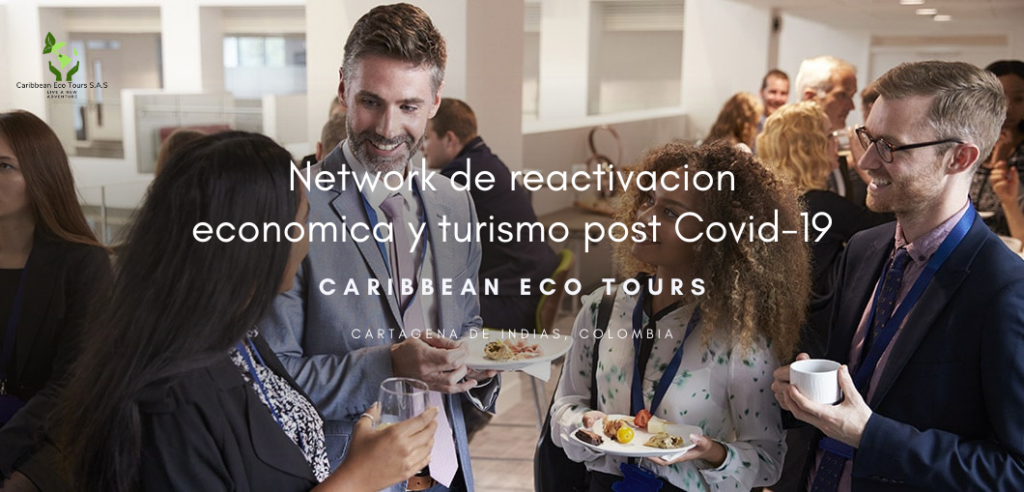 November 18
@
9:00 am
–
8:00 pm
UTC+5
Tras los efectos de la pandemia de la Covid-19, reactivar nuestra economía se ha convertido en el objetivo principal para Colombia y, por supuesto, para Cartagena. Esta coyuntura nos invita a impulsar una reactivación sostenible que garantice un equilibrio entre el bienestar social, el crecimiento económico y la preservación del medio ambiente.
CARIBBEAN ECO TOURS y CORECA tienen el gusto de presentarle e invitarle al NETWORK DE REACTIVACIÓN ECONÓMICA Y TURISMO POST COVID-19. Este espacio tiene como objetivo integrar a expertos, líderes, empresarios, académicos, ONG, fundaciones e instituciones gubernamentales, para dialogar sobre la reactivación económica y cultural del sector turístico en Cartagena.
Durante el NETWORKING DE REACTIVACIÓN ECONÓMICA Y TURISMO POST COVID-19 EN CARTAGENA.
Podrá poner a disposición sus productos a nivel local, nacional e internacional gracias a que será transmitido de forma virtual en Estados Unidos y Colombia. Contaremos con la presencia de estadounidenses que esperan por conocer a empresarios comprometidos con el crecimiento económico de Cartagena. En ese mismo espacio podrás obtener opinión de clientes potenciales, empleadores y comunidad en general, podrás identificar mercados, intercambiar ideas y hacer networking. En esa misma línea, recibirás un taller educativo sobre la reactivación sostenible, turismo ecológico, diversidad e inclusión y aprovechamiento de los residuos enfocado al sector empresarial.
CARIBBEAN ECO TOURS y CORECA te invitan a debatir sobre las proyecciones del sector turístico, reactivación económica y cultural, reflexionar sobre los retos socio ambientales y obtener más oportunidades de mercado para transformar y adaptar tu negocio a nuevas inversiones.
Venta de tickets
Informacion de Stands para el evento
Durante una hora cada stand estará promocionando sus productos y servicios de acuerdo al stand comprado. Para ello, cada empresa debe preparar su presentación y publicidad para ser compartida con los asistentes. Es importante mencionar que estarán empresas estadounidenses escuchando su presentación por lo que habrá personas traduciendo la presentación, en esa misma línea, cada empresa deberá enviar su texto de presentación en inglés
Carrusel de productos

Instituciones aliadas al evento:

Consigue nuestro evento en eventbrite!
Evento presencial
https://www.eventbrite.com/e/162842627683
Evento Online
https://www.eventbrite.com/e/166601761353
Te invitamos a completar este FORMULARIO para dar a conocer tu empresa con nosotros.
We also have this FORM in English, for our costumers outside Colombia, show your company with us.